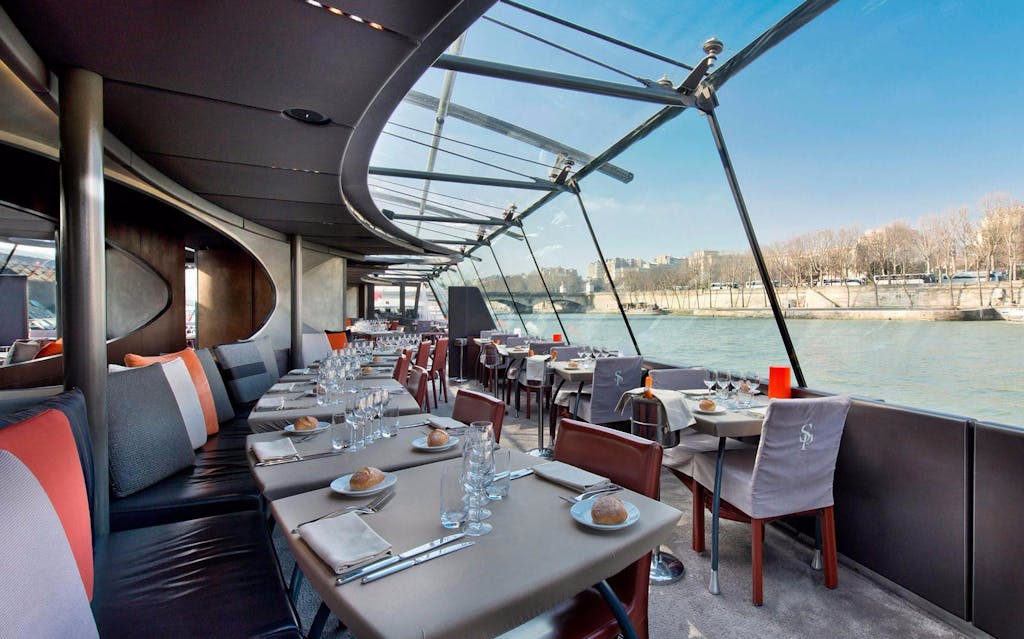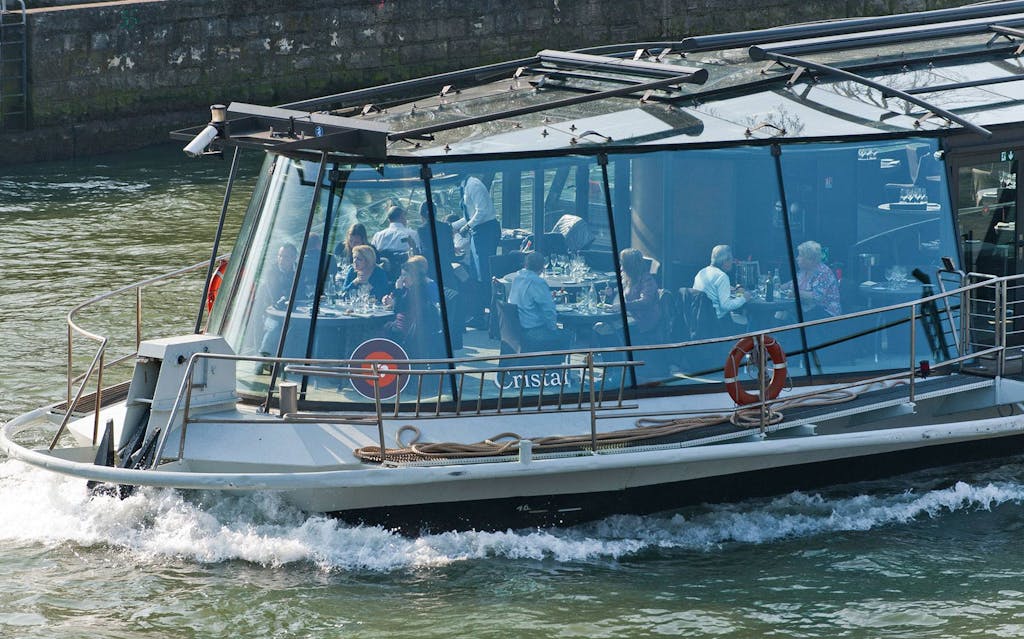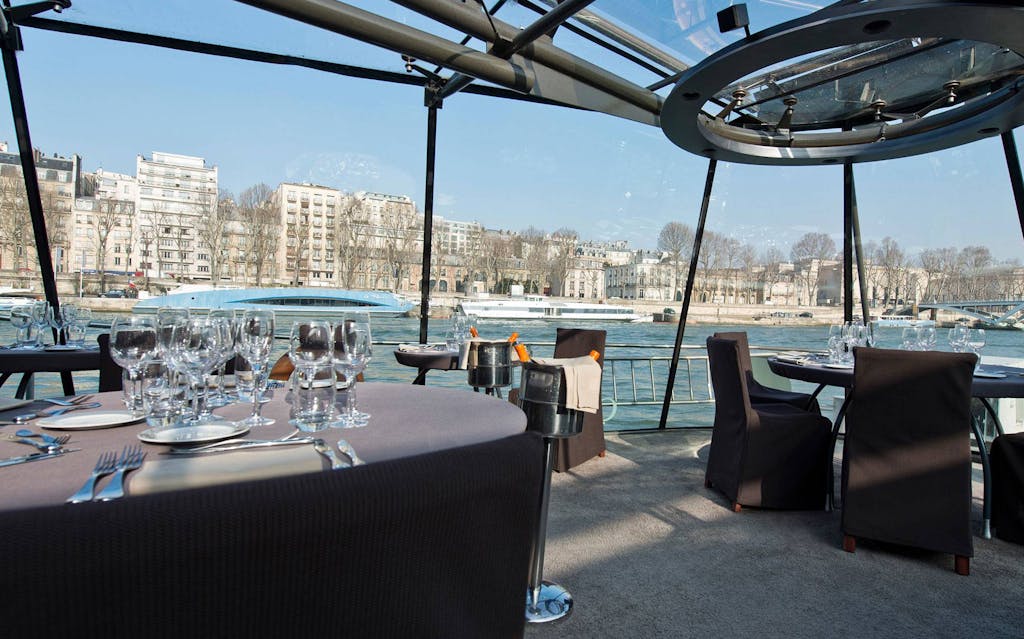 Bateaux Parisiens: Seine Lunch Cruise with Live Music
Includes Wine
Adult
£
58.29
Child
£
28.72
Highlights
Enjoy a fantastic fine dining experience on the Seine and see the sights of Paris while you eat.
Bateaux Parisiens: Seine Lunch Cruise with Live Music
After you finish exploring all the major Paris attractions, embark on a cruise to appreciate a different perspective of the city's beauty. The Seine Lunch Cruise is your ideal choice to experience this stunning view.
Enjoy great food and music on a river Seine lunch cruise
While you gaze out at the various city landmarks, sit down and enjoy the tastiest food Paris has to offer. A special 3-course meal prepared by the chef on-board is sure to satiate your taste buds. The cruise uses the freshest local produce for your lunch, adding to the world-class flavour. Handpicked wines make the meal even more special as each of the drinks perfectly complement the food served.
As you bite into your lunch, look out to see the important Paris monuments, such as Les Invalides, Institut de France, City Hall, Notre Dame Cathedral, Louvre, Grand Palais and the Eiffel Tower. These sights, along with the general atmosphere on the river, make it a special experience.
Live music while you dine
To enhance your Seine lunch cruise, a band plays live music as the boat travels on the water. The slow and soulful tunes leads to an even more special time for guests. The music also sets the mood for couples on their honeymoon. Paris along with the food, drinks and music can lead to an extremely memorable time for you and your loved ones.
Sophisticated dining on the river Seine
The carefully prepared 3-course menu offers some of the best when it comes to French cuisine. The cruise serves starters to guests, which include a leek and potato soup, Cep and button mushroom ravioli, Marinated prawns with mango chutney and a panna cotta from sweet onions. Meat lovers can delight in the prune, chestnut and chicken pate.
Coming to the main course, you can look forward to Pan-fried salmon, glazed pork belly, Veal with gremolata sauce and roasted farmhouse chicken. Keeping with French tradition, you can taste a variety of cheeses during your lunch, especially aged by the cruise's maitre fromager.
At the end of the meal, choose from a variety of desserts, including chocolate truffle, whipped cream with meringue, almond cake served with pear sorbet and even a hazelnut cream with cocoa-sprinkled crumble.
The Seine lunch cruise offers dining options for vegetarians as well. Additionally, opt for a privilege or premier pass to snack on petits fours. Those interested in non-alcoholic beverages can try coffee and/or mineral water.
Book your passes online and receive a confirmation mail within 20 minutes. Save the voucher attached with this mail on your phone. Carry the voucher along with a valid photo identification proof to board the boat and set out on the cruise. However, purchase tickets only when you are sure about the trip since cancelling them is impossible. Opt for a window seat when you book the pass to enjoy the most exquisite views of Paris attractions. A seat at the front of the boat can enhance your cruise experience further.
Includes
Tour admission
Three-course lunch with wine
Local taxes
Additional
Getting your tickets

You will receive your tickets via email shortly after booking. Please carry a printed copy of your tickets to the meeting point along with valid photo ID.

Menu

Meat Options

Starters

Creamy leek and potato soup, smoked haddock and peppered whipped cream
Button and cep mushroom ravioles served with a reduced butternut squash bouillon
Chicken, prune and chestnut pâté in a crust | Confit pear marmalade with star anise
Marinated prawns, sweet onion panna cotta and mango chutney

–

Main Course

Pan-fried salmon, Beluga lentils in warm vinaigrette and a lobster emulsion
Soy sauce glazed pork belly with potato gratin
Roast farmhouse chicken | Tender Brussels sprouts | Chinese artichokes | Butternut squash
Tender veal in gremolata sauce | Confit vegetables in an osso buco jus and parsnip mousseline

–

Cheese

Cheese matured by our Maître Fromager
Etoile menu: instead of dessert or for a €5 supplement

–

Dessert

Almond cake served with pear sorbet, roast pear and an exotic fruit coulis
Pot of hazelnut cream, lemon whipped cream and cocoa-sprinkled crumble
Chocolate truffle
Meringue with whipped cream and chocolate sauce

Vegetarian Options

Fine cream of butternut squash with roasted cep mushrooms
Haute Provence einkorn, vegetable caponata and a vinegar bouillon

–

Drinks and Wines

Service Étoile: White wine kir, Pays d'Oc Chardonnay Viognier PGI, PDO Minervois Terroir
Service Privilège: Blanc de blancs kir – Chardonnay Viognier – PDO Médoc Château la Hourcade
Service Premier: Glass of Champagne – Chardonnay Viognier – PDO Médoc Château la Hourcade
Mineral water | Coffee
Petits fours (Privilege Service and Premier Service)

One bottle (75 cl) serves 4 people.

Cancellation Policy

Lunch cruise tickets cannot be cancelled, amended or refunded.
Book Tickets