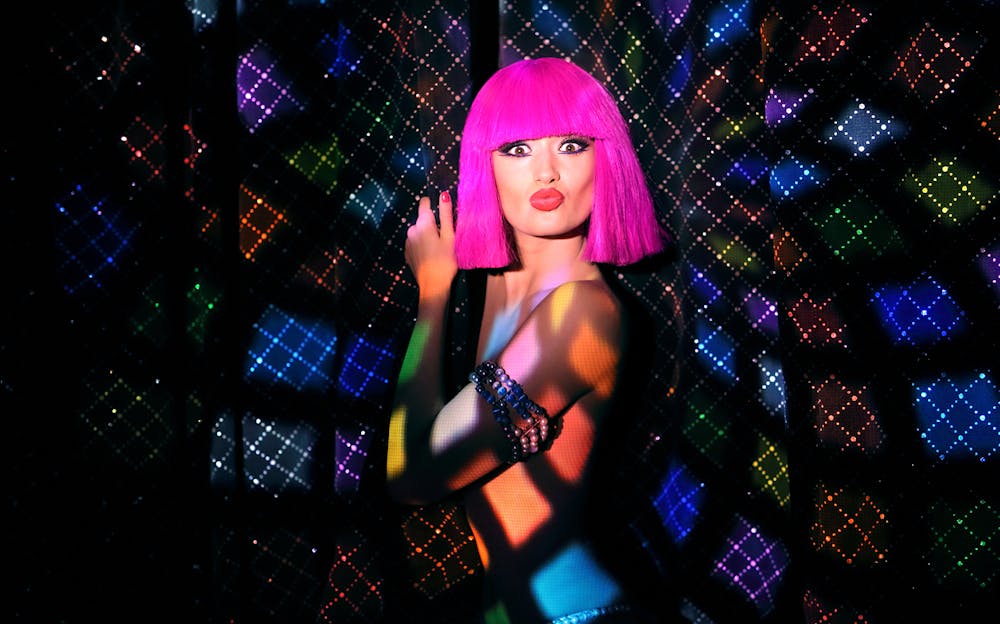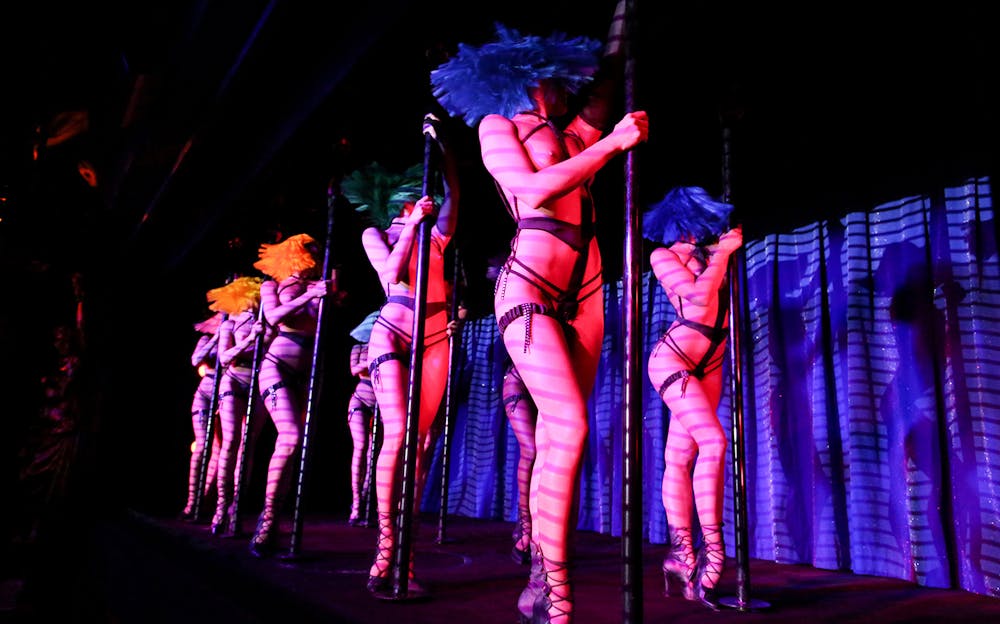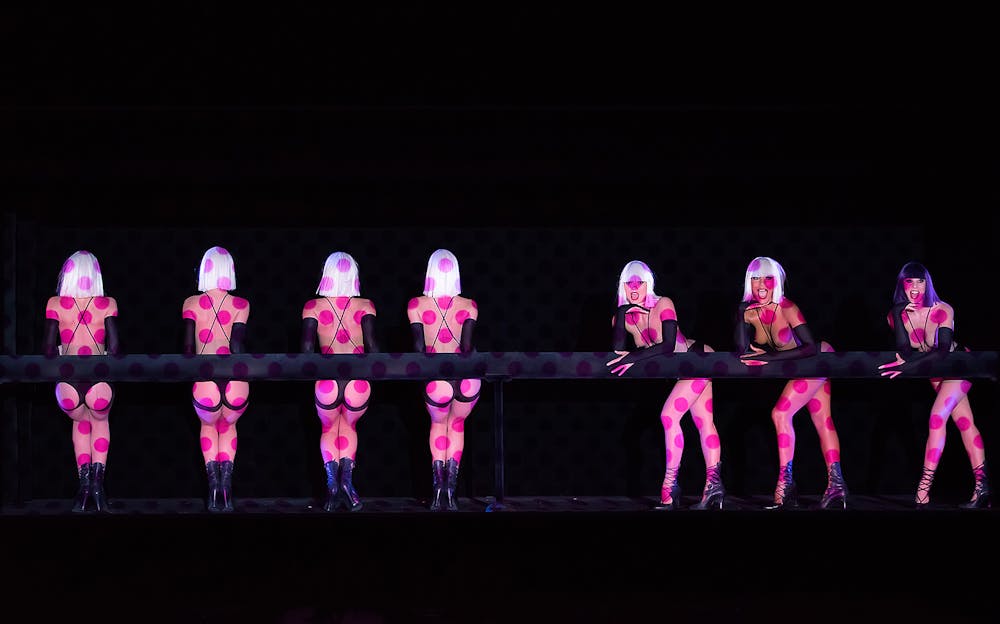 Crazy Horse Cabaret
Includes Champagne
Available from
£
93.89
Highlights
Visit Crazy Horse Paris - one of the top cabaret houses in the world!
Watch Totally Crazy, the latest show at Le Crazy Horse de Paris.
With a special offer for that special someone this Valentine's, enjoy an evening of stunning cabaret and a complimentary 1/2 bottle of champagne and dessert by Yann Couvreur!
Crazy Horse Cabaret
In 19th May 1951, a painter named Alain Bernardin opened the Crazy Horse cabaret in Paris. Today, it is a major tourist attraction where you can witness perfectly choreographed routines and lavish yet scarce costumes ornamented with feathers, glitters and fantasy. The main feature of Crazy Horse is the seductive dances performed by the Crazy Girls. With diverse sets of magic taking place between every show and the next, you will be left excited and thrilled. Make your Parisian night fantastic by visiting Crazy Horse for tons of wonder.
Enjoy a crazy night of fun at the Crazy Horse Cabaret
Crazy Horse is famous for more than just dance shows; the club has much more to offer. Captivating performances by mimes, magicians and jugglers will get you on your feet. Bernardin had immense love for magic. He said that magic is enchanting and it corresponded with his vision. The way the girls are beautifully shown on stage is pretty much the magic of costumes and lighting effects. The club owners have helped create many other cabaret and burlesque in various cities ever since. Visit the venue to discover its charm and, also, what makes the cabaret such a big name.
A night of outstanding entertainment
Crazy Horse Cabaret is one of the best clubs in Paris. Its name extends far and has been referred in popular songs like The Rolling Stones' Live With Me in 1969 and Mötley Crüe's Girls, Girls, Girls in 1987, and that is not all. Since the cabaret's acquisition by new stakeholders and management in 2005, many famous personalities have graced the venue with their presence and performance. Celebrities like Pamela Anderson, Kelly Brooke, Carmen Electra, Aria Cascaval, as well as Dita Von Teese and Arielle Dombasle have delivered deluxe shows here. Cascaval was a part of the girl music group The Paradiso Girls, which later led them to even release one of their albums titled Crazy Horse.
Brand new for 2019: the 'Bionic Showgirl' show
This year, Crazy Horse takes a fresh leap on their list of shows. Be enchanted by Viktoria Modesta, the Latvian born singer, songwriter and model, as she teams up with some of the world's most gorgeous ladies and takes you on a journey to the future. By combining breathtaking lighting effects with the tempting art of seduction, Viktoria and the girls offer a jaw-dropping experience you hardly find in life. Catch her with the Crazy Girls as well as solo in a list of over 29 exquisite performances. With a passionate team of international performers from Los Angeles, New York, Paris and London, witness creativity and futuristic visual brilliance in an exclusive and one of a kind show.
There are three Crazy Horse Cabaret ticket variants for you to choose from –
Crazy Champagne: Show ticket + half bottle champagne
Crazy Coupe: Show ticket + a cup of delicious champagne
Crazy Premium: Show ticket + half bottle Premium champagne along with a variety of five canapes
Opt for the one you prefer and embark on a mesmerising experience of a lifetime!
Includes
Crazy Horse Paris Cabaret Show Ticket
Champagne and goodies available on a chargeable basis
Additional
Performance Times

Sunday – Friday: 8:30 PM and 11:00 PM
Saturday: 7:00 PM, 9:30 PM and 11:45 PM
Monday-Tuesday: 11:00 PM (Crazy Premium ticket variant unavailable)

Please arrive at least forty-five minutes before the performance to ensure you have enough time to get into your seats before the Burlesque act, which begins thirty minutes before the main show.

Getting your tickets

You will receive your tickets via email shortly after booking. Please present a printed copy of your tickets at the venue along with valid photo ID.

Additional Information

Dress Code: Smart, elegant clothing. No sports or loungewear is permitted.

Restrictions: Smoking, Pets, photography and videography are prohibited.

Age Restrictions

You must be at least ten years old to enter the venue. All guests under eighteen years must be accompanied by their parents or guardians. Alcohol is restricted to patrons over eighteen years of age.

Cancellation Policy

You may cancel your tickets up to seven days in advance for a full refund.
Book Tickets