Search cities, movies, categories + events...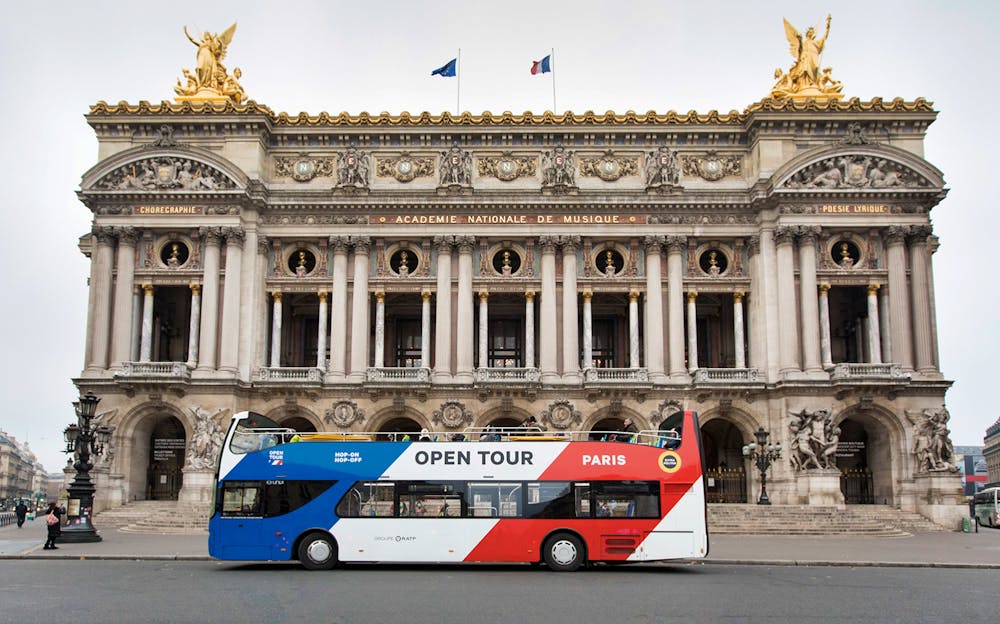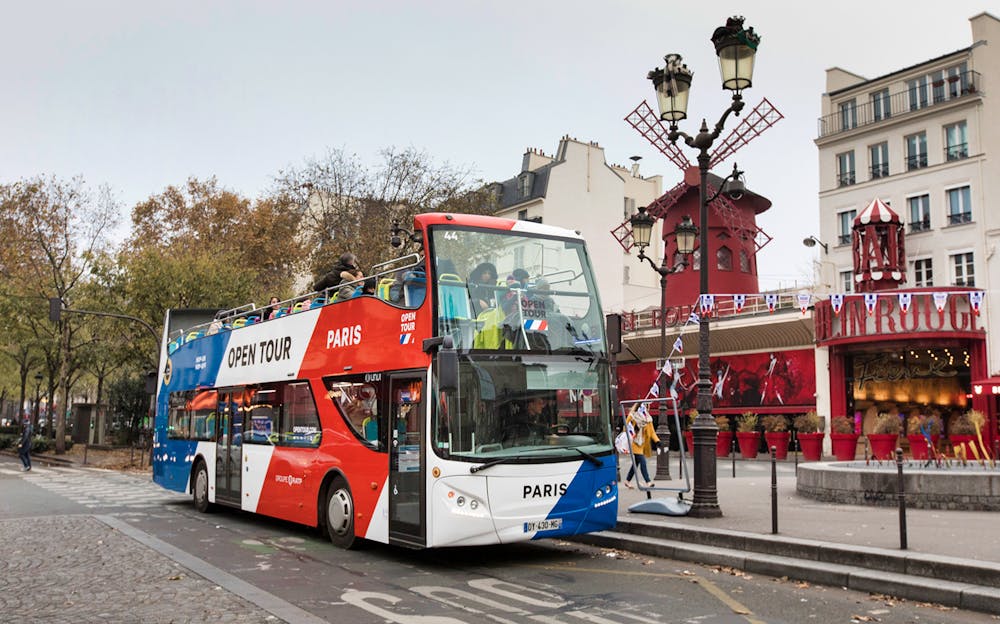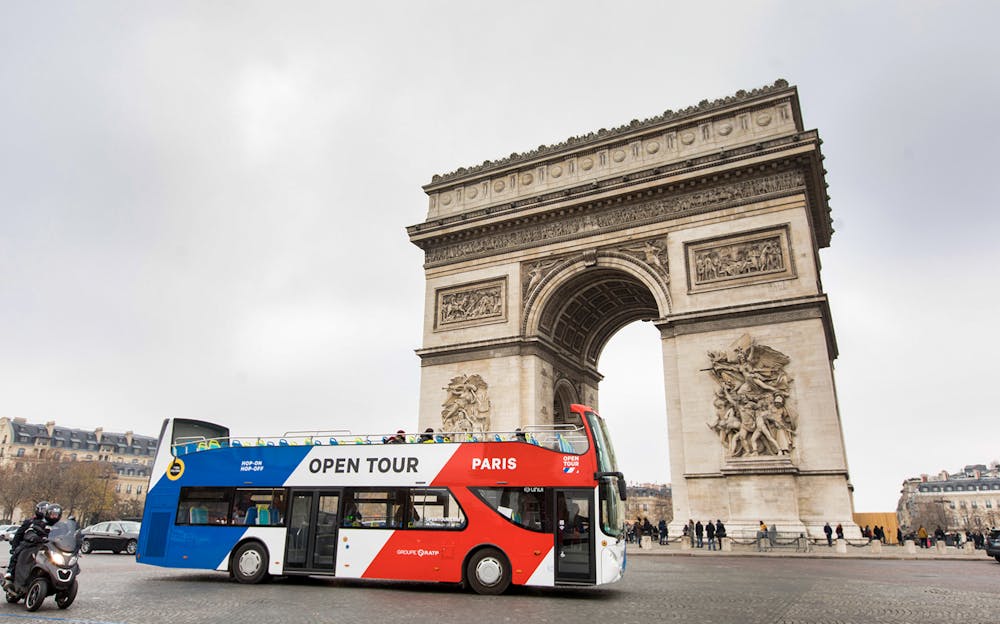 Your Experience
Create your own sightseeing itinerary and easily get from one place to the next. Open Tour hop-on, hop-off bus tours are the ideal way to cover the entire city, while saving time and money. Open Tour buses operate across 3 routes and 34 stops. With the largest network of interconnected hop-on hop-off lines in Paris, conveniently explore the city's top attractions!
The 3 routes include the blue line, white line, and red line. The most popular routes are the blue line (Louvre Museum, Champs Elysees, Orsay Museum, Arc de Triomphe, Eiffel Tower, plus more) and the white line (Montparnasse tower, Catacombs, Notre Dame Cathedral, plus more).
View a map of all 3 routes here.
5 Must See Attractions
Eiffel Tower – Blue Line, Stop 13#
Widely regarded as the world's most popular attraction, summit the Eiffel Tower to soak up the best views of the city. Explore tickets here.
Musée d'Orsay – Blue Line, Stop #5
From Van Gogh to Monet, discover the world's largest collection of impressionist and post-Impressionist masterpieces. Explore tickets here.
Catacombs – White Line, Stop #21
Descend 20 meters below the bustling streets of Paris and explore the city's mysterious network of tunnels holding the remains of over six million Parisians. Explore tickets here.
Louvre – Blue Line, Stop# 4
From 4,000 year-old Egyptian artifacts to modern Oriental artwork, immerse yourself in over 380,000 pieces of art spread across 8 rooms at the world's largest and second most-visited museum.
Explore tickets here.
Notre Dame – White Line, Stop #30
Step back in time at this stunning medieval Catholic cathedral and admire the stunning Romanesque architecture, sculptures, and stained glass. Explore tickets here.
Highlights
Get unlimited hop-on, hop-off access to 4 interconnected routes with over 50 bus stops.
Choose a 1-day, 2-day, or 3-day pass and explore the city at your own pace.
Easily redeem your e-ticket upon boarding the bus at any stop within the 4 routes.
Enjoy panoramic views from the open-top deck of the bus as you drive by the city's famous monuments.
Learn all about the city with onboard commentary via headphones (available in 10 languages).
From the comfort of your seat, get free WiFi on all busses.
With flexible validity, use your e-ticket anytime within one year from the date of purchase.
Includes
Unlimited hop-on hop-off access to 3 interconnected tour routes and more than 34 bus stops across Paris (Available for 1, 2, & 3 consecutive days)
Multilingual commentary available in 10 languages
Multilingual children's commentary available in 3 languages (French, English & Spanish)
Free wifi on board the buses
FAQ
Know Before You Go
Bus timings & frequency
Blue line – Every 8 minutes from 9.30 AM (Apr. to Oct.) & every 15 minutes from 9.30 AM (Nov. to Mar.)
White line – Every 15 minutes from 9.30am
Red line – Every 25 minutes from 9.15am
Boarding point
You may board the bus at any stop within the 3 routes. Present a printout of your ticket voucher to the driver to redeem your bus pass.
Bus stops & routes
There are 3 interconnected routes:
Blue Line – View map
White Line – View map
Red Line – View map
View full map.
Interchange points
Blue Line Stop #1 to Red Line
Blue Line Stop #5 to White Line
Onboard commentary
All buses include complimentary headset audio guides with commentary in 10 languages. (French English, Spanish, Italian, German, Portuguese, Brazilian, Russian, Mandarin Chinese and Japanese.) There is also a child's commentary option with fun and entertaining tales, stories, and legends of Paris available in 3 languages (French, English & Spanish).
Onboard WiFi
All buses have free WiFi.
Cancellation Policy
This experience cannot be cancelled, amended or rescheduled.
How to Use Your Tickets
You will receive an e-voucher via email. Bring a printout of your voucher and present it to the driver directly on the bus. You may board at any stop within the 3 routes.
Validity
Your e-voucher is valid for one year from the date of purchase. The day on which you exchange your voucher counts as the first day of your pass. Please note: A 1-day pass does not mean 24-hours. For example, if you redeem your voucher at noon, your service will end at the end of that day's service. Not at noon the next day.
Book Tickets