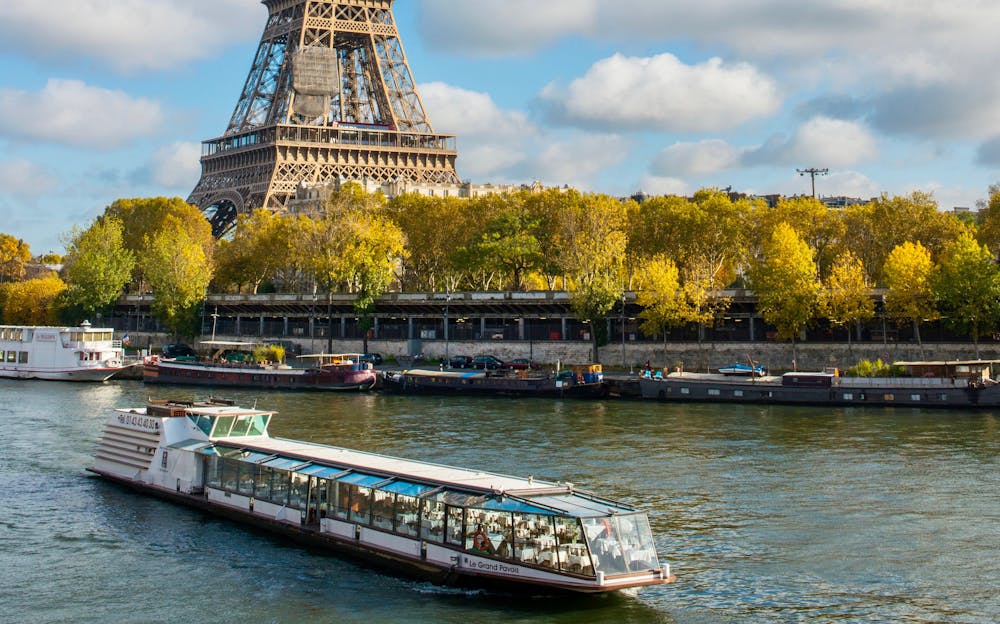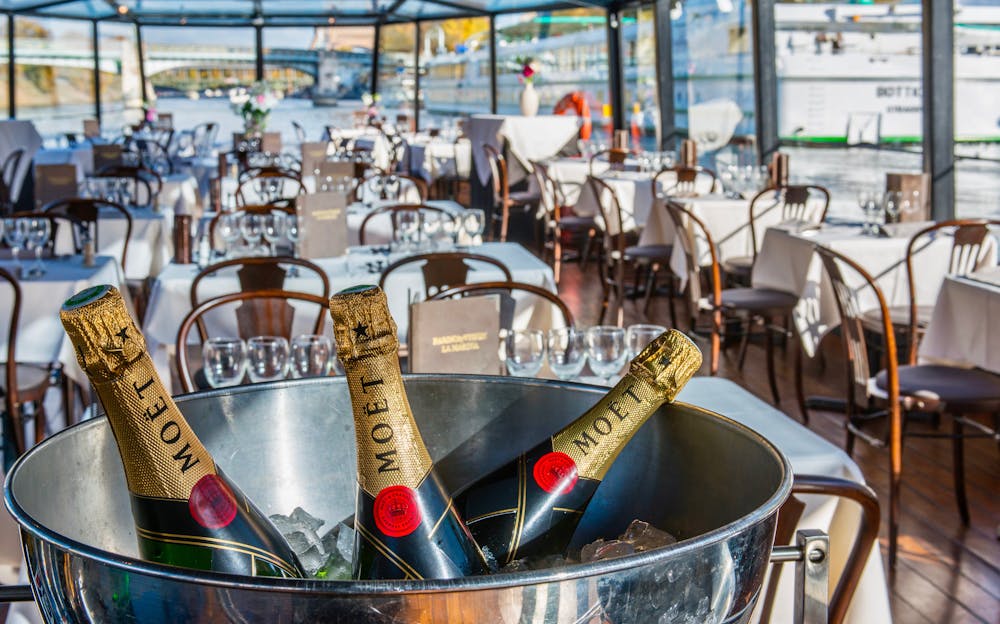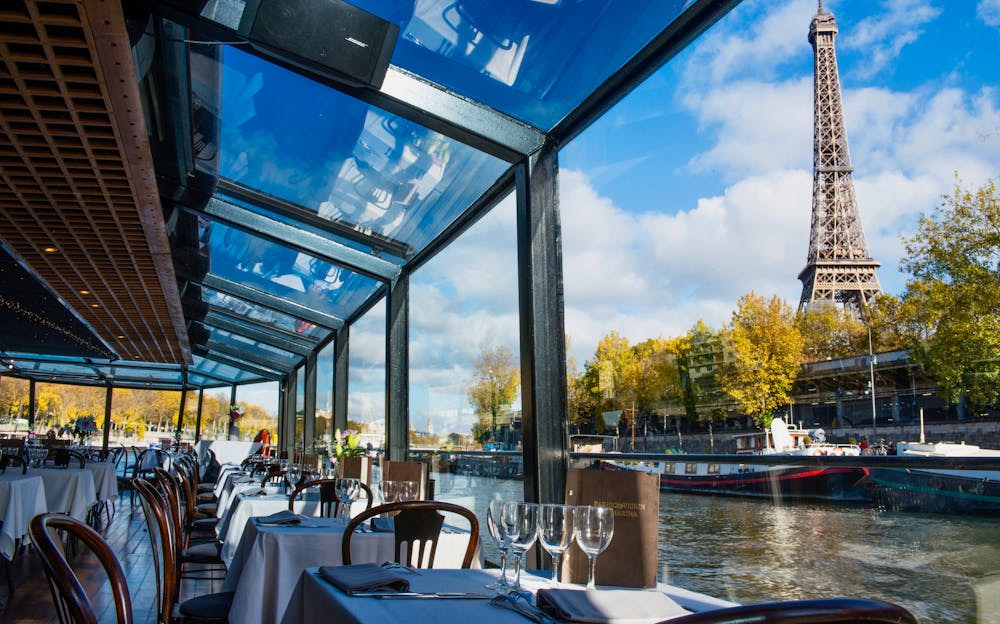 La Marina – Early Evening Paris Romantic Dinner Cruise
Includes Wine
Adult
£
57.86
Child
£
33.20
Highlights
Enjoy amazing views of the Eiffel Tower and other iconic landmarks from the cruise.
Enjoy an assortment of delectable dishes and delicious French wine or Champagne.
The Paris Romantic Dinner Cruise: An unforgettable night in the City of Lights
Paris's beauty is magnified when you look at the city from the Seine River. After dark, drifting through the water as you gaze out at the City of Light can be the perfect setting for dates or honeymoon. Embark on a Paris Romantic Dinner Cruise to experience an intimate time with your loved one.
As you board the boat from the Marina de Paris, prepare yourself for a special evening comprising the most attractive sights and the tastiest foods. The chef on board prepares an assortment of starters, main course and dessert dishes for guests. Vegetarians can opt for a separate menu that specifically caters to them.
The choicest wines and champagne, complement the food perfectly, making the evening even more memorable.
Fantastic views from the Seine
The Eiffel Tower and the Notre Dame Cathedral, visible during the Paris Romantic Dinner cruise, seem more stunning with the alluring lights in the evenings. The vantage point from the cruise boat is perfect for capturing pictures of these monuments in all their beauty. Furthermore, the reflection of the city's lights on the Seine at night is a special sight in itself.
Enjoy a delectable dinner together
After admiring the sights outside, take a seat and enjoy the most delectable dishes of French cuisine. Starters include fried scallops, shredded salmon, chicken vol au vent and tomato and aubergine fondant.
Moving onto main course dishes, choose from the chicken fillet, steamed hake and a slab of beef with forestiere sauce. After you have had your fill of savoury dishes, pick your favourite desserts from the ones on offer. Your choices include a salted butter caramel macaron, fresh fruit verrine, dark chocolate eclair and a sesame seed crunch with lemon flavoured fondant cream.
For vegetarians, the three-course menu comprises cream of butternut soup, vegetarian steak and rice pudding with warm chocolate coulis. Similarly, for children, the cruise offers a seasonal starter, choice of the main course and chocolate mud cake.
The romance in the Paris Romantic Dinner cruise comes from the choice of alcoholic beverages. You can either pick a glass of wine or half a bottle of champagne. Those who do not consume alcohol can drink water or fruit juice or cola.
Opt for the cruise on any day of the week. Boarding starts at 6.15 PM and departs from the Marina at 6.45 PM. At the end of the journey, you can disembark on Port Solferino at 8 PM. Children below three years do not need a pass to board the coat, while a reduced ticket rate applies for kids aged between 3 and 11….. However, ticket cancellation or amendment is impossible. Therefore, purchase the passes only when you are sure you can make enough time for the activity.
Book your tickets soon and experience a unique night in Paris. When you spend it with your partner, the time at the cruise can truly become an unforgettable part of your vacation.
Includes
Seine river cruise
A three-course dinner
Choice of Wine or Champagne
Additional
Cruise Times

The dinner cruise runs on all days of the week. Boarding commences at 6:15 PM, and the cruise is set to depart at 6:45 PM, finishing at approximately 8:00 PM.

Getting your tickets

You will receive email confirmation shortly after booking. Please display your tickets on your mobile device along with valid photo ID when boarding.

Example Menus

Menu Decouverte

Starters Assortment

Fried scallop, crispy chicory and onion confit
Lightly cooked shredded salmon with fennel and cumin froth
Mini chicken vol au vent with nutmeg-flavoured mushrooms
Aubergine and tomato fondant baked with parmesan topping

Main course at choice

Slab of steamed hake, artichoke cream and lime peel, leek fondue
Blanquette style chicken fillet, fried yellow carrots and mushrooms
Slab of beef with forestière sauce, potato gratin and oyster mushrooms (+7€)

Desserts Assortment

Salted butter caramel macaron with puff pastry flakes
Bitter chocolate eclair
Sesame seed crunch with lemon fondant cream
Verrine of fresh seasonal fruits

Drinks

One glass of wine (16 cl) at choice: Touraine AOC Sauvignon Luc Poulain (blanc) or Touraine AOC Domaine des Echardières (rosé) or Bordeaux AOC les Mercadières (rouge)
OR
½ bottle of Champagne Louis Constant
OR
A glass of soft (water or cola cola or fruit juice).

–

Vegetarian Menu

Cream of butternut soup, chestnut bits and soft prunes, virgin olive oil croutons,
Tasty vegetarian steak, fried yellow carrots and fresh mushrooms,
Rice pudding and fresh fruit, warm chocolate coulis

–

Child Menu

Seasonal starter,
Menu choice of main course,
Chocolate mud cake,
Orange juice; Coca-Cola or water

–

Please note: Menus are subject to modification.

Cancellation Policy

Cruise tickets cannot be cancelled, amended or refunded.