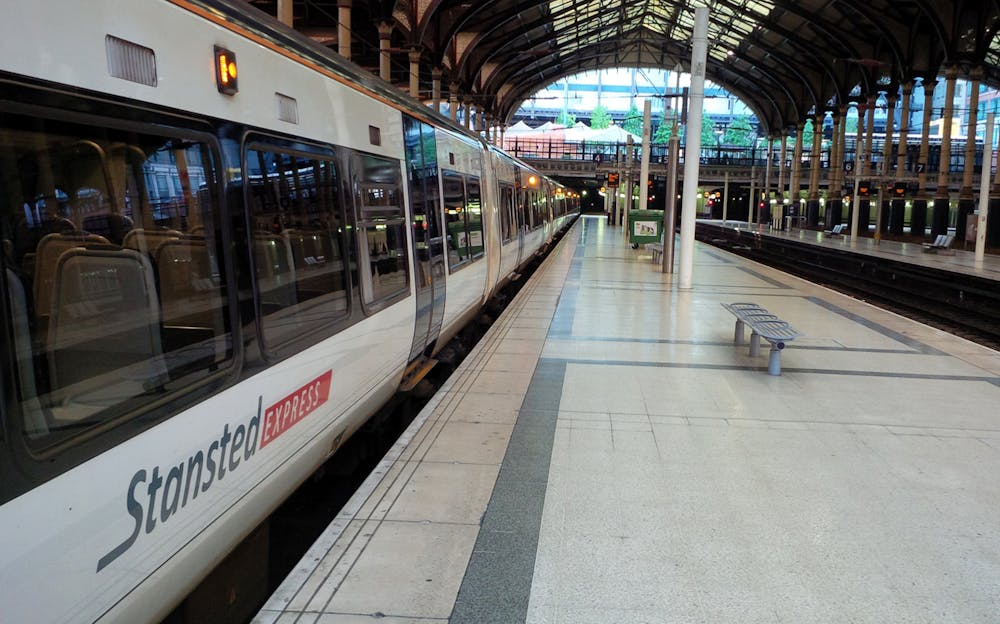 London Stansted Express Tickets
Superfast Train to/from Central London
Adult
£
19.40
Child
£
9.70
Highlights
Trains available every 15 minutes
Take the fastest route between central London and Stansted Airport
Access the exclusive lounge with complimentary tea at Liverpool Street Station with First Class tickets
Super speedy travel with Stansted Express tickets
The Stansted Express is a direct train service that links London Stansted Airport to London Liverpool Street. With fast and frequent trains between Liverpool Street Station and Stansted Airport, the Stansted Express is the quickest way of getting to central London. Whether you are travelling to or from Central London, this superfast train can get you there in no time. Get your Stansted Express tickets beforehand to make use of this swift service.
Stansted Airport to central London in under 50 minutes
Feel the fantastic speed of the London Stansted Express as it covers the distance in only 47 minutes. If you travel by road, the overall journey takes more than an hour to complete and, during certain hours, you might have to wait even longer to reach your destination. You can skip the lengthy trip and save some valuable time by opting for the train instead.
The Express is the fastest way into Stansted Airport from central London and vice versa and, as previously mentioned, are available frequently. With a train arriving every 15 minutes, you have a good chance of boarding one, irrespective of the time you reach the station. You are in luck if you have an important meeting, conference or any other work on a Monday, Friday or Saturday. On these days of the week, The Stansted Express is available as early as 3:40 AM. By taking the express train, you avoid the risk of missing your early flight.
Take the hassle out of your journey
Stansted Express tickets promise you a trip with the least amount of trouble. The train stops only once between Liverpool Street Station, at Tottenham Hale. On weekdays, Tottenham Hale station opens at 5:20 AM. So, if you are on your way to Stansted, travel to Liverpool Street to catch the Express.
Worry less and carry more on the Stansted Express. The abundance of space guarantees a comfortable ride, and plenty of space to accommodate all your belongings; keeping them safe and within sight. If a laid-back journey is a bigger priority, try booking a seat in the First-Class compartments. The interiors are impressive and fewer people travel on them, making it an excellent option for rush hour journeys. The tickets might be a little more expensive, but well worth the money for a luxurious ride. The First-Class tickets offer a bonus – access the exclusive lounge at Platform 10 of Liverpool Street with complimentary tea while reading a newspaper – English style!
Please note, you must purchase Stansted Express tickets before catching the train. Upon booking, you will receive a printable e-ticket. Show a printed copy at the station or have it scanned onboard the train for verification. In case you are travelling from Stratford or Liverpool Street, remember that Oyster Cards are only valid till Tottenham Hale. The train station is underneath Stansted Airport's passenger terminal.
Excludes
Pick-up and drop-off services from your hotel
Additional
Train Times

Liverpool Street Station to Stansted Airport

Monday and Friday only – 3:40 AM, 4:10 AM.
Monday to Friday – 4:40 AM, 5:10 AM, 5:25 AM, 5:40 AM, 5:55 AM. every 15 minutes until 4:25 PM, 4:39 PM, every 15 minutes until 7:09 PM, 7:25 PM, every 15 minutes until 10:55 PM, 11:25 PM.
Saturdays – 3:40 AM, 4:10 AM, 4:40 AM, 5:10 AM, 5:25 AM, 5:40 AM, 5:55 AM. every 15 minutes until 10:55 PM, 11:25 PM.
Sundays – 4:10 AM, 4:40 AM, 5:10 AM, 5:40 AM, 6:10 AM, 6:25 AM, 6:40 AM, 6:55 AM, every 15 minutes until 10:55 PM, 11:25 PM.

How to get there

By Bus: Alight at Liverpool Street Station using buses 8, 26, 35, 42, 47, 48, 78, 135, 149, 205, 242, 344, 388, L1, L2, L3, N8, N26, N205.

By London Underground: Alight at Liverpool Street using the Central, Circle, Hammersmith & City or Metropolitan lines.

Getting your tickets

You will receive email confirmation shortly after booking. Please print your ticket and show it with a valid photo ID. Your voucher is valid for 30 days of the travel date.

Cancellation Policy

This ticket cannot be cancelled, amended or rescheduled.