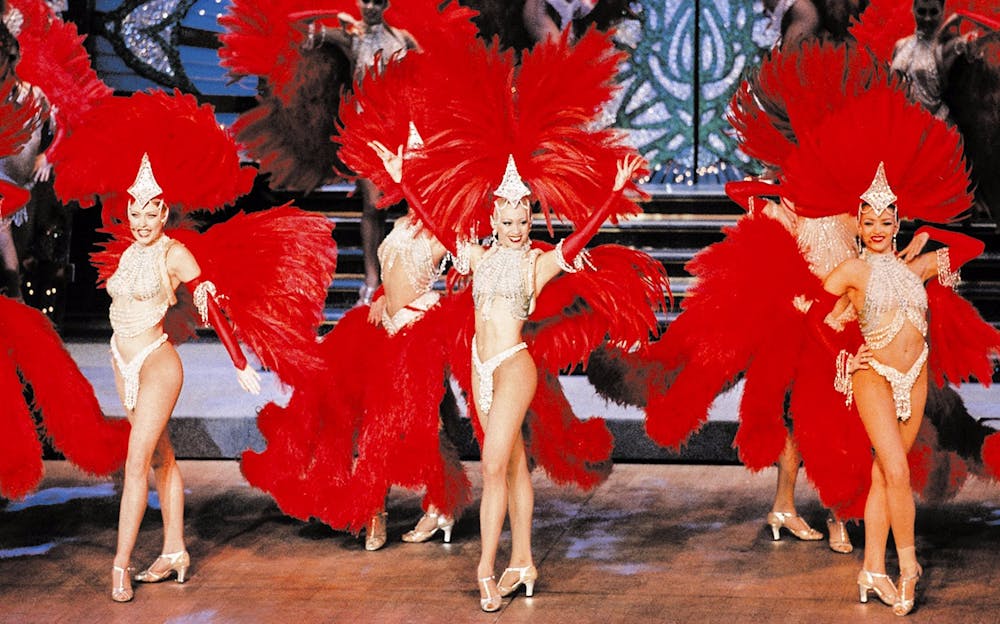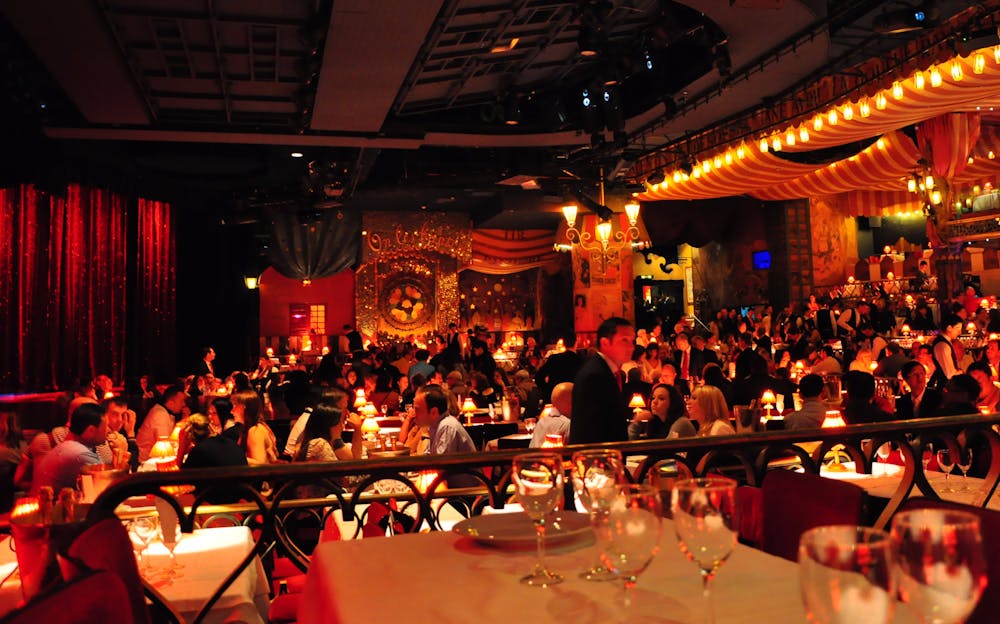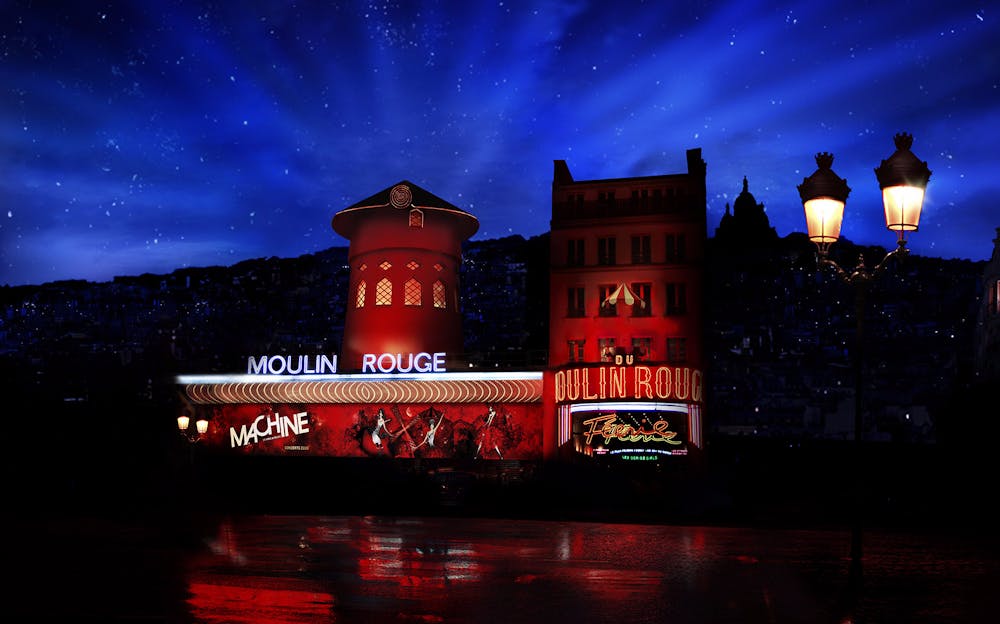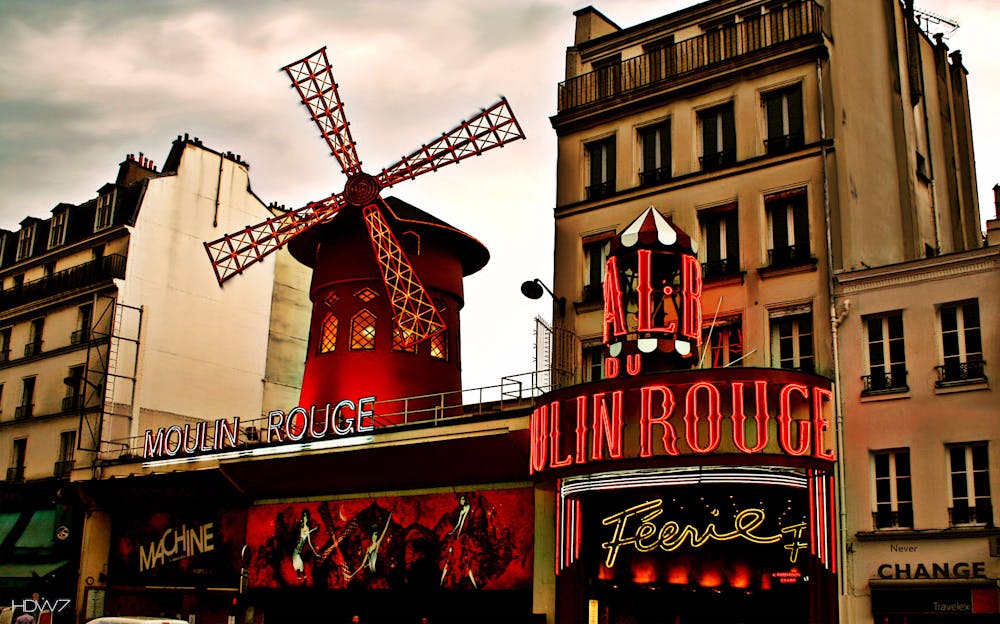 Moulin Rouge Paris
Includes Dinner and Transfers
Adult
£
239.91
Child
£
236.34
Highlights
Experience an exciting evening at the legendary Moulin Rouge cabaret
Sequins and feathers galore at the Moulin Rouge Paris
The Moulin Rouge is a world-renowned cabaret in the capital of France. Situated at the heart of the Montmartre district, Joseph Oller and Charles Zidler co-founded the original venue in 1889. The Moulin Rouge's main draw is the unique dance-musicals that dazzle visitors from all parts of the world. It is perhaps the biggest reason over 600,000 guests visit the venue every year. During your visit, witness breath-taking performances by skilled professionals complemented by 60 Doriss Girls hired from various countries. Get your hands-on Moulin Rouge Paris tickets to see talents and celestial beauty, all under one roof.
See plenty of sequins, rhinestones, feathers and other glittering material at the Moulin Rouge. Both men and women wear gorgeous costumes, produced in some of the best studios in Paris. You will love the stage sets, which are created by renowned Italian artists. Once you visit the cabaret, you will understand that it is a lot more than simply a show. With time, Moulin Rouge has earned its name as a night of classy entertainment.
A night of world-famous entertainment
Moulin Rouge Paris is famous as the birthplace of the modern version of the can-can dance. It is a physically demanding, high-energy dance form that became famous as a music hall dance during the 1840s. Originally, both men and women danced, but it is now traditionally identified with female dancers. The dance's highlights include vigorous petticoat and skirt manipulation, accompanied by splits, high kicks and cartwheels.
Great food and transfers included
Your tickets include hotel transfers to Moulin Rouge, so you can ignore the trouble of having to look for a cab to reach the venue. Additionally, your evening features a three-course gourmet meal prepared by one of Paris' finest, David Le Quellec. You also get to choose from two delicious menus –
Belle Epoque
Pigeon Heart Tomatoes | Scottish Smoked Salmon | Bresaola | Raw and Cooked Asparagus | Baby Arugula Salad | Whipped Cream with Lime Jus
Cheek Cannelloni | Pan Fried Fillet of Beef | Swiss Chard, Boulangères Potatoes, Beef Juice with Taggiasca Olives Fillet of Sea Bass, Mesclun, Rouille Sauce and Croutons, Poached and Served Like a Bouillabaisse,
Cocoa Streusel Delight of Seasonal Fruits with a Cream of Pecan Nuts and Lime | Moulin Rouge Cheesecake with Red Berries | Bittersweet Chocolate Mousse
–
Mistinguett
Shaving of Aged Parmesan | Eggplants from Nice | Semi-Cooked Tuna Tataki | Beetroot Carpaccio with Smoked Oil | Arugula Pesto
Pea's French Style and Burned Onion | Pan-Fried Salmon | Tarragon Juice, Fricassée of Seasonal Vegetables, Breast of Farm Chicken
Fruity Marshmallows and Raspberry Sauce, "Tendresse" of Red Berries | Crispy Chocolate Pearls, Gourmandise of Three Chocolates "Echiquier" Pastry
Includes
Food and drinks
Hotel transfers
1/2 a bottle of Champagne
Additional
Moulin Rouge Performance Times

You will be collected at 6:30 for dinner. The duration of the Moulin Rouge cabaret show is two hours. The show commences at 9:00 PM and ends at 11:00 PM.

Getting your tickets

You will receive email confirmation of your tickets shortly after booking. Please download and display your tickets on your mobile phone along with valid photo ID at the meeting point (your hotel). Please note that tickets are only valid for the time and date selected when booking.

Additional Information

There are no pre-assigned seats at the Moulin Rouge. Seats are allocated on a first-come-first-served basis.

Smart attire is required to enter the Moulin Rouge. For men, a jacket and tie are appreciated, but not required. Shorts, flip-flops, sportswear, and trainers are not permitted. There is a cloakroom where you can store your belongings.

For copyright and security reasons, taking videos and photographs during the show is strictly prohibited. However, there is a professional photographers available if you wish to have your photograph taken for souvenir purposes.

Please note that the menu is subject to change.

Cancellation Policy

Tickets cannot be cancelled, amended or rescheduled.