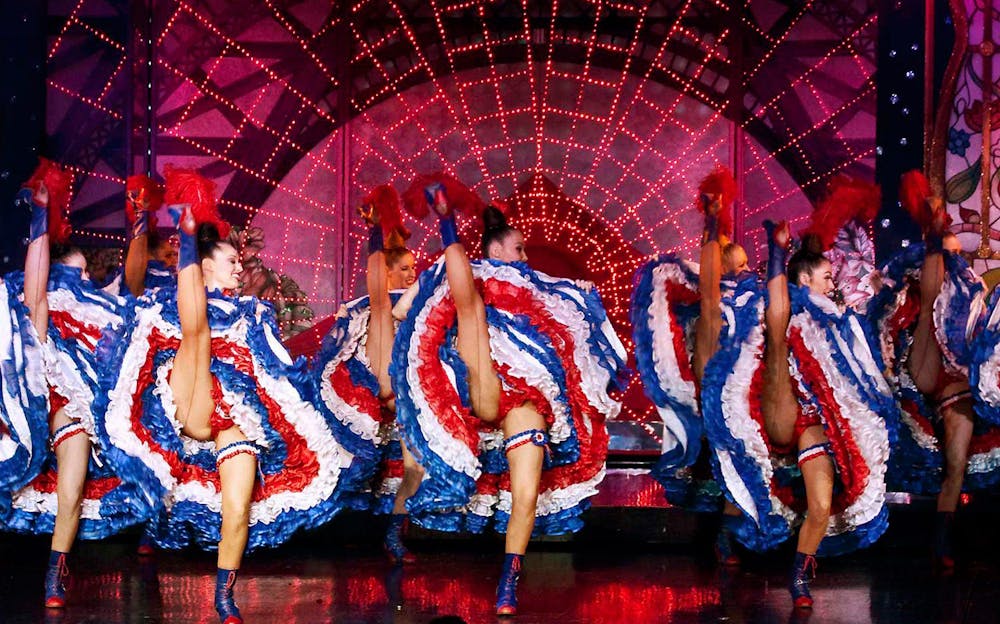 Paris by Night: Moulin Rouge Cabaret and Paris City Tour
Includes Hotel Transfers
Highlights
Explore the city of Paris by night, and see the capital in a brand new light.
Watch stunning cabaret performances on stage at the legendary Moulin Rouge.
With hotel transfers included, sit back, relax and enjoy a relaxing tour!
Take a tour of Paris and have a great time at the Moulin Rouge cabaret
Paris is one of the most popular tourist destinations in the world. Holding a plethora of museums, parks, monuments, galleries, beautiful locations and other attractions, the French capital offers everything you will ever want. Under the sunlight, Paris is a sight for sore eyes. But, when night falls, nearly every inch of the city transforms, showing a gorgeous side you have never seen before. Whether or not it is your first time in Paris, going around the capital and catching sight of the many attractions under a new light is something you mustn't miss. Tour the city of love and end your night with a jaw-dropping show at the Moulin Rouge cabaret.
Explore the city of love
Comfortably go through Paris and lose yourself amidst the bright colours that surround you. With hotel transfers included, you can stop worrying about finding a ride for your adventure. You will travel around the city's most attractive locations while your driver gives you tidbits about all these places. Go over the bridges and pass by popular neighbourhoods like Saint Germain des Pres and Champs Elysees, taking a peek into the daily lives of the locals.
You will see the Louvre, Les Invalides, Paris Opera, Musee d'Orsay, Place de la Concorde Square, the Pantheon, the Arc de Triomphe and many other landmarks on this comprehensive tour. The 2-hour tour before entering the Moulin Rouge cabaret will give you a clear idea about the Parisian nightlife. The French capital, after dark, turns even more beautiful. With lights everywhere, you will feel like a child lost in a massive carnival. The city tour and cabaret experience are a must-have!
Enter the famous Moulin Rouge
Opened in the centre of Montmartre district in 1889, the Moulin Rouge Cabaret is a place of unmatched entertainment. Its world-class dance-musicals draw in over 600,000 audiences from all corners of the world every year. Watch a large group of high-skilled professional performers, including 60 ravishing Doriss Girls. They are hired and trained to offer the best of colourful and brilliant entertainment.
The Moulin Rouge cabaret is not simply about the performances. It also showcases high-end Italian sets and stages and over 1,000 dreamy costumes made by established French studios. Plenty of feathers, sequins and rhinestones enhance the ambience, making it a place where you will witness the best of amusement. This attraction is one of the most renowned cabarets in Paris and was co-founded by Charles Zidler and Joseph Oller in 1889. It introduced cabarets in all parts of Europe and soon became famous as a top-rated form of entertainment.
Originally a sensual dance style, the Rouge is well-known for being the birthplace of the can-can dance's modern form. Visit the cabaret after your city tour to enjoy its carefully planned routines, while an authentic orchestration played by 80 musicians add to the celestial atmosphere.
Includes
Half a bottle of Champagne per person
Tour guide
Hotel transfers
Excludes
Cloakroom fee at the Moulin Rouge
Additional
Tour Times

Moulin Rouge
Summer: Daily, from 11:00 PM to 1:00 AM.
Winter: Daily, from 9:00 PM to 11:00 PM.

Paris City Tour
Until 31st of October: Daily at 9:00 PM.
From 1st of November: Daily at 7:00 PM.

Getting there

You will be picked up from your hotel or apartment in Paris and taken to the tour.

Getting your tickets

You will receive your tickets via email shortly after booking. Please download them on your mobile device and present them to the driver along with valid photo ID.

Rules and Regulations

Please dress smartly and refrain from wearing sportswear, jeans or trainers.

The cloakroom charge at the Moulin Rouge is mandatory.

Cancellation Policy

Tickets cannot be cancelled, amended or rescheduled.