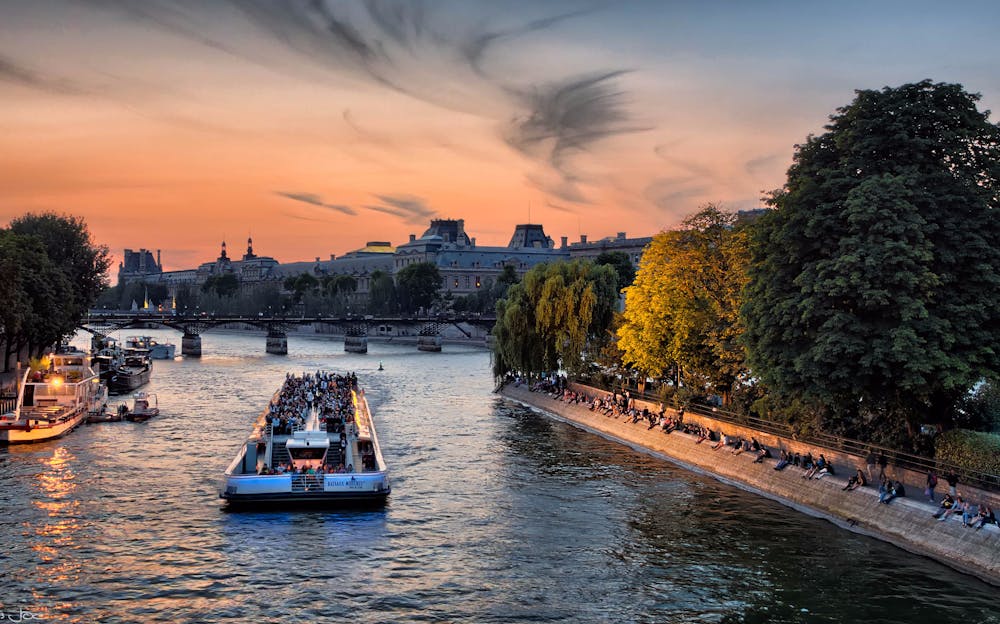 Paris Crazy Horse with Bateaux Mouches Dinner Cruise
Available from
£
171.30
Highlights
Enjoy a delicious three-course dinner as you cruise along the Seine.
Witness the latest cabaret show - Totally Crazy - at the world-famous Crazy Horse.
Indulge in an evening of seduction and charm at Le Crazy Horse de Paris.
Paris Crazy Horse with Bateaux Mouches Dinner Cruise
Paris is popular all over the world because of the plethora of magnificent attractions it accommodates. It is the capital of France and one of the most beautiful cities in the world. Paris is an important centre for fashion, culture, art and gastronomy. The entire cityscape is a big example of how majestic the 19th century was. Broad avenues and the Seine crisscrosses the capital, providing a mixture of old and modern appearance hardly seen elsewhere. Although every landmark in Paris and the city itself is a must-see, feel its essence by visiting Paris Crazy Horse and dining on the Seine.
An evening of daring entertainment at Paris Crazy Horse
Popularly known as Crazy Horse, the Le Crazy Horse Saloon or Crazy Horse de Paris is a famous cabaret in Paris. The club is world-renowned for its variety of shows which includes magic, juggling, mime and, of course, its original highlight, mesmerising performances by gorgeous nude female dancers. With a wide range of jaw-dropping events, Crazy Horse promises a night of passion, talent and fantasy you will remember forever.
Paris Crazy Horse has witnessed performances by renowned celebrities like Pamela Anderson, Carmen Electra, Kelly Brooke, Dita Von Teese and others, making it one of the most visited cabarets in Paris. Even popular songs like Motley Crue's Girls, Girls, Girls and The Rolling Stones' Live With Me holds references to this club. Visit Crazy Horse to find out the magic behind its well-earned fame.
See the sights of Paris from the Seine
Bateaux Mouches are sightseeing boats offering beautiful views of the city from the River Seine. Board one of them and cruise through the Seine to take in the breathtaking vistas of the capital and its many monuments. Make sure to catch sight of the world-famous Eiffel Tower,  Musée d'Orsay, Conciergerie, Notre Dame Cathedral and many more. While you do, prepare for a delicious Parisian meal that will leave you speechless.
Delicious three-course meal included
Starters – Crispy chicken or olive oil toast with Green bean salad or suprême sauce, Toasted baguette, Smoked salmon or Duck foie gras with dill cream, Pumpkin cream soup or foie gras, croutons, chestnut shavings (veg)
Mains – Purple cabbage puree, Walleye steak and Duck tournedos or tomato sauce, pepper sauce, roasted new potatoes or Fillet of sea bream, Fillet of veal or cilantro sauce, Lentil casserole or puree of Chinese artichokes with herb seasoning, fresh veggies sauteed in soy milk (veg)
Desserts/Cheese – Caramel crisp or Tonka cream puff or Black Forest cake or Exotic sorbet trilogy or Pear and almond crunch verrine (veg)
Coffee/Tea
One bottle of Château Tarin/ La Chablisienne? Petit Chablis per two guests
Children's Dinner Cruise Menu
Starters – Small Caesar Salad
Mains – Chicken Supreme + potato-tomato puree
Dessert – Triple Chocolate pastry + Custard Cream
With all being said, your Parisian night is going to be different after the delicious and relaxing Bateaux Mouches Dinner Cruise and a visit to Paris Crazy Horse. You can be pretty sure about planning another visit sooner than you know.
Includes
Crazy Horse Cabaret Show
Half-a-bottle of champagne
Seine Dinner Cruise
Additional
Timings

Boarding for the cruise begins at 7:30 PM. The cruise ends at 10:45 PM, after which you will head to the Crazy Horse for your midnight cabaret show.

Please arrive at least forty-five minutes before the cabaret show to ensure you have enough time to reach your seats before the Burlesque act, which begins thirty minutes before the main show.

Getting your tickets

You will receive your tickets via email shortly after booking. Please print and present them along with valid photo ID.

Restrictions

Individuals must be at least 10 years of age to enter the Crazy Horse. Guests under 18 must be accompanied by an adult. Smoking, Pets, Photography and videography are prohibited at the venue.

Dress Code: Smart, elegant clothing. Sportswear is not permitted.

Cancellation Policy

Tickets cannot be cancelled, amended or rescheduled.
Book Tickets