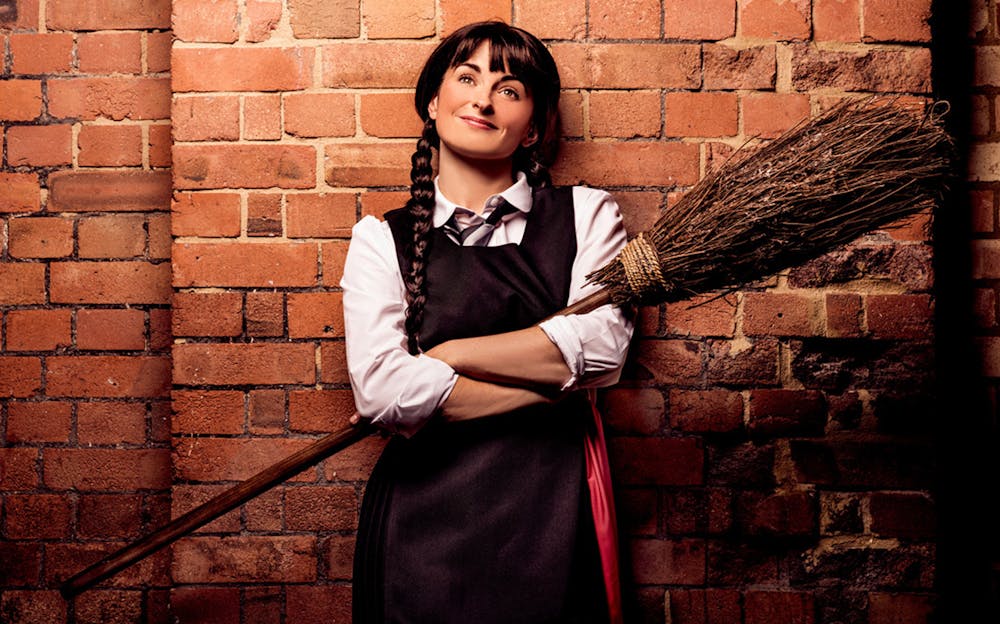 The Worst Witch
Available from
£
17.40
Was
£
39.00
Save
£
21.60
A brief history of inspiration behind The Worst Witch theatre adaptation
Written and illustrated by Jill Murphy, The Worst Witch is a much-loved series of children's books. Eight books form the series, and they mainly deal in fantasy and boarding school stories. Allison & Busby published the first book in 1974, and Puffin Books published the latest in 2018 as First Prize for the Worst Witch. A movie adaption of the first book aired in 1986. Since then, there has been a TV series, two spin-offs, and the most recent is a Netflix Original series launched in 2017. All these lead to give you an idea about the popularity and brilliance of the books – the main reason behind The Worst Witch theatre adaptation.
With memorable characters, a captivating backdrop, gripping music and perfectly delivered scenes, the show is spellbinding. Theresa Heskins, famous for her work in The Snow Queen, directs the stage adaptation. The theatre also includes a few original songs from the series that enhances its charm. The Worst Witch has always managed to intrigue audiences, making them laugh and taking them on a magical journey into the world of good and bad witches.
The wonderful story in short
Follow the life of young Mildred Hubble, who goes to Miss Cackle's Academy for Witches. It is a school of magic and the good-hearted, yet clumsy Hubble tends to get into catastrophic situations. Her blundering personality makes her famous as the worst witch in the entire school. Miss Cackle, Hubble's headmistress, is usually compassionate, whereas Miss Hardbroom, her form teacher, finds her to be lazy. In the Worst Witch theatre production, you will see Mildred's school friends come to life. Like Maud Spellbody, a rational girl trying to get past confusion, as well as the hilarious Enid Nightshade who gets them all into trouble. Their rival is the snobbish and ill-mannered Ethel Hallow, their high-born classmate who's vengeful towards them. See witches falling off their broomsticks, spells and potions going wrong, humans turning into worms and a lot more during this magical play!
A novel turned into a dramatic performance
The story begins with Hubble joining a magic institute as the only perk-less girl. Even though she is 'ordinary' among the other witches, Hubble tries to fit in. We begin at the traditional witch assembly where the fresh faces receive their broomsticks and witness the simple young girl solve a devastating sorcery plan. During the performance, see broomsticks, adorable magical pets, including the cure Tabby, Mildred's kitten, scary adventures and conspiracies. The musical show explores the strange universe from the perspective of the new witch. An ordinary girl who is striving to become a skilled witch while facing many difficulties.
Different parts from the original books combine to form this two-hour captivating theatre experience. All the story's most beloved characters vividly come to life in this fantastic Worst Witch theatre production.
Additional
Show Information

Directed by
Theresa Heskins

Written By
Emma Reeves

Performance Times

Tuesday to Saturday: 2:00 PM
Thursday and Saturday: 7:00 PM
Sunday: 1:30 PM and 5:30 PM

Getting your tickets

You will receive email confirmation shortly after booking. Please display your tickets on your mobile phone along with a valid photo ID. We recommend that you arrive at the theatre at least thirty minutes prior to the performance.

Theatre Information

The Vaudeville Theatre has a seating capacity of 690. It has an in-house bar and cloak room, as well as assistive listening and wheelchair accessible facilities.

Cancellation Policy

Tickets cannot be cancelled, amended or rescheduled.