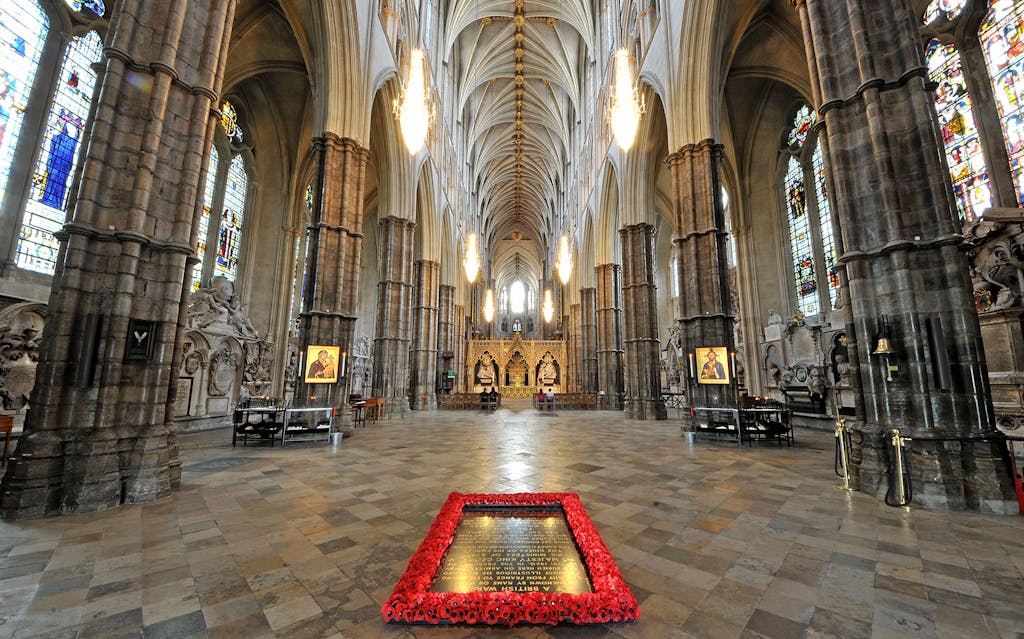 Westminster Abbey Tickets
with Audio Guide
Adult
£
29.00
Child
£
13.00
Highlights
Visit this historic UNESCO World Heritage Site
Learn the history of the Abbey - the traditional burial site of British monarchs
Walk down the aisles where Prince William and Kate Middleton got married in 2011
Your audio guide provides all the information you need about this stunning building
Witness this stunning World Heritage Site first-hand with Westminster Abbey tickets
Westminster Abbey, a tenth-century building, is a large, Gothic abbey church in Westminster, London. The Abbey is located in the Greater London borough of Westminster, which is just west of the Houses of Parliament. Formally known as the Collegiate Church of Saint Peter at Westminster, Westminster Abbey is one of the UK's most noteworthy religious buildings. The Abbey, Houses of Parliament and St. Margaret's Church are collectively classified as a UNESCO World Heritage site. More than a million people buy Westminster Abbey tickets every year, travelling from all over the world to see this magnificent building.
Westminster Abbey: home of coronations and weddings
Since the coronation of William the Conqueror in 1066, every British monarch has been crowned here, excluding Edward V and Edward VIII. Westminster Abbey also has a history of royal weddings. The first was of Henry I and Matilda of Scotland in 1100. Sixteen royal weddings have taken place here ever since. Richard II was the only other reigning sovereign who married in the Abbey. In 2011, Prince William and Catherine Middleton married here.
A story of monks and monarchs
Westminster Abbey is the resting place of over 3,000 great Britons, including seventeen sovereigns, eight Prime Ministers, scientists, actors, military leaders and poet laureates. Sir Isaac Newton, Ernest Rutherford and David Livingstone are a few of the prominent names whose tombs are in the Abbey. George II, who ruled from 1683 to 1760, was the last monarch to be buried in the Abbey.
A section of the south transept, also known as Poet's Corner, is a must-see for literature students. It is the resting place of some of English literature's most prominent names like Robert Browning, Ben Jonson, John Dryden and Geoffrey Chaucer are buried here. Near the west door in the centre of the nave is the grave of the Unknown Warrior whose remains were brought from Belgium in 1920.
A journey back in time
Benedictine monks founded this inspiring historical place. The unique architecture of Westminster Abbey itself takes you back in time. Henry III took down the old church to replace it with the existing Westminster Abbey in 1245. The modern French cathedral architecture of that time heavily influenced the Church's pointy Gothic style and overall design. The Abbey underwent restoration after damage caused by bombing during World War II.
There is much to see in Westminster Abbey. The Pyx Chamber, built in 1070, is one of the oldest parts of Westminster Abbey. Its spectacular fan-vaulted ceiling and the overall construction of the Henry VII Lady Chapel greatly inspire visitors. Some of the Chamber's original tiles and medieval tiled floor still exist. The Coronation Chair built for King Edward I in 1296 is available for public display. The Chair has been the crowning seat of every monarch henceforth. England's oldest altarpiece, the Westminster Retable, is also on display at the Abbey's Queen's Diamond Jubilee Galleries. The Quire – home to music every day for over 1,000 years – is another impressive attraction. Attend a daily choral service to listen to the mesmerising Choir singing from the stalls.
See all these sights, learn the history of Westminster Abbey and lose yourself in its beauty. Purchase Westminster Abbey tickets to visit this historical monument at its majestic best.
Additional
Opening Hours

Monday to Friday – 9:30 AM to 3:30 PM
Saturday – 9:00 AM to 1:00 PM (9:00 AM – 3:00 PM between May-August)
Sunday – Closed

Please note that the Abbey closes to visitors one hour before the aforementioned times.

How to get to Westminster Abbey

By Tube: The nearest underground stations are St. James's Park (District and Circle lines) and Westminster (Circle, District and Jubilee lines).

By Train: The nearest train stations are Victoria and Waterloo.

By Bus: Buses 11, 24, 88, 148 and 211 pass the entrance. Buses 3, 12, 53, 53X, 87, 88, 109, 159 and 453 stop within walking distance of the Abbey.

How long does it take to explore Westminster Abbey?

Allow ninety minutes to see all the attractions.

Accessibility

Some areas are unavoidably inaccessible to those permanently confined to wheelchairs. It is recommended that people using wheelchairs enter through the North Door.

Guide dogs are allowed at the Abbey.

Comfortable shoes are recommended as much of the floor and steps of the Abbey are uneven.

Restrictions

Photography is not allowed inside the Abbey.

Visitors are not allowed to carry large suitcases or bulky items inside the Abbey.

While there is no strictly enforced dress code, please note that the Abbey is a place of worship, and it is better to be dressed modestly.

Getting your tickets

Your voucher will receive your voucher by email within 20 minutes of purchase. You must carry a printed copy of the voucher to the Abbey along with a valid photo ID.

Cancellation Policy

Westminster Abbey tickets cannot be cancelled, refunded or amended.
Book Tickets