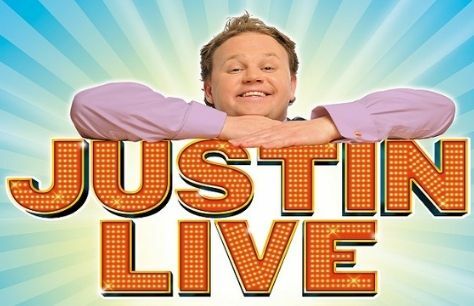 Justin Live Tickets at the The Lowry - Lyric Theatre, Manchester
A Kids' Favourite
The West End offers a wide variety of shows for people of all ages. Musicals, drama, comedy, concerts—no matter what you like, you'll find something to your liking in London's theatre district. And the venue holds some fantastic shows for children as well. So, if you are looking for a fun show to enjoy with your children, you've come to the right place. Book your Justin Live Tickets to watch the CBeebies superstar Justin Fletcher live in action. It is a fantastic show full of singing and dancing, with a heavy dose of slapstick comedy that you can enjoy with your entire family. Experience an evening full of laughter and electrifying music with Justin, and give your kids the best chance to enjoy themselves. 
Meet Shaun the Sheep in Person!
Justin Fletcher MBE is a popular comedian, actor, and TV presenter of England. He was widely known as the presenter of the famous BBC kids' channel CBeebies. He performs in various characters on his show, often self-created ones, fondly loved by preschool children. You might also know him as the voice behind the beloved Shaun the Sheep, a favourite among children. He also voiced Shaun and Timmy in the latest Shaun the Sheep Movie: Farmageddon. Fletcher also stars in Something Special, an exclusive show where he works with children with special needs.
Besides performing in popular kids' shows, he also is a great comedian. He specializes in slapstick comedy and has appeared several times as Mr. Tumble, the award-winning comedian on screen. His shows Gigglebiz and Justin's House were also hugely popular among kids. The BAFTA-winning performer has also been appointed Member of the Order of British Empire in the 2008 Birthday Honours for his children's broadcasting and voluntary services. Your Justin Live Tickets is the best chance to see the iconic man up close, entertaining the audience in his very own show on the West End stages.
A Singing and Dancing Extravaganza
Not just for the hilarious comedy, Justin Fletcher's show is bursting with dancing numbers and songs popular among kids from all over the country. The Gigglebiz superstar will present covers of well-known songs live on stage, accompanied by an energetic, fabulous dancing crew that will make you sway with the pulsating tunes. The exhilarating ambience is bound to make you laugh, dance, sing along, and enjoy to the fullest with your family. Watch your kids doubling over as the legendary performer put together an incredible presentation with his rib-tickling comedy. And we bet you won't be able to hold yourself either. With all the dancing, singing, caricature, and slapstick comedy, the spectacular show is an absolutely complete package to spend a fun night. So, make sure you grab your Justin Live Tickets before they sell out. After all, you know it is going to be a blast!
Book Tickets