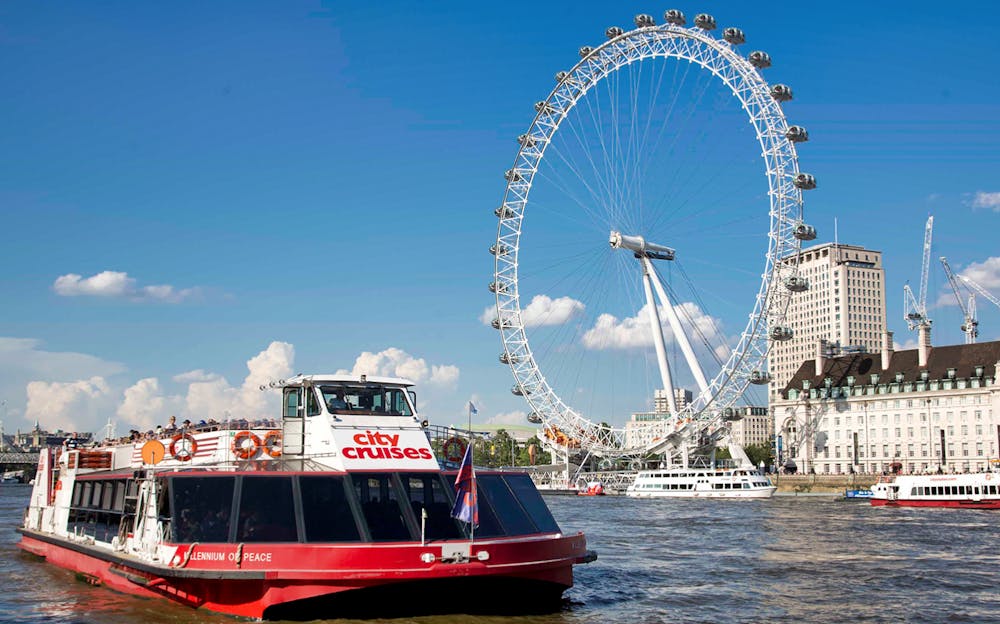 Hop On Hop Off Thames River Cruise
Adult
£
19.00
Child
£
12.00
Highlights
Unlimited Hop-On Hop-Off access
Enjoy panoramic views of top London attractions
Onboard commentary available in six languages
Cruise in comfort in the saloon or open-air deck
See London on this Hop On Hop Off Thames River Cruise
On the surface, one could say that this experience is merely a journey through London by boat. However, it is much more than that. During the cruise, you can enjoy extensive picturesque views of the city and its banks, hardly possible elsewhere. Purchase tickets for the Hop On Hop Off Thames River Cruise to begin your discovery of London's top riverside attractions today.
A Hop On Hop Off tour allows you to board and depart from the boat at designated stops as many times as you want. The cruise features live onboard commentary, revealing interesting details about all the iconic monuments along the banks of the Thames. The narration is multilingual and available in six languages, allowing you to learn more about the capital and its heritage. This sightseeing tour is one of a kind and a must-have option during your time in London. Choose to relax in the cool indoor cabin or lounge on the open-air deck, with both guaranteeing impressive views.
Explore London at your own pace
The Hop On Hop Off Thames River Cruise lets you explore the city at your convenience. Tickets allow unlimited access from specific stations along the river. View London's famous buildings and monuments while avoiding worries about transport issues. The service starts at 10 AM daily and runs till 7:30 PM. Boats depart every forty minutes, giving you enough time to explore the sights you wish to see before boarding the next vessel. Additionally, you can make your trip more comfortable by grabbing snacks and drinks from the onboard bar available on every boat.
See London's top riverside attractions
You can see many monuments from the river. However, there are a few attractions you must see.
Tower of London: Tower Pier
Built by William the Conqueror in 1078 AD, it is a historic castle on River Thames' north bank. Visit the Tower to discover the Crown Jewels as well as the capital's bloody royal past.
London Eye: Westminster Pier
Enjoy bird's eye views of Buckingham Palace, St James Park and more from the London Eye, the world's highest observation wheel.
Palace of Westminster: Westminster Pier
The Palace is renowned for accommodating the House of Lords and the House of Commons. It was built in 1016 AD and rebuilt in 1876 AD after a fire significantly damaged it. Now a UNESCO World Heritage Site, the Palace is a must-visit attraction.
Shakespeare's Globe: Bankside Pier
It is a complex that houses a reconstructed Globe Theatre. Take a tour to learn about the art of staging a play. You can also enjoy a delicious themed afternoon tea by planning your timing right.
Oxo Tower: Embankment Pier
Oxo Tower is famous for its Art Deco design. It hosts a renowned gallery of design, architecture and photography, and also a range of arts and crafts shops.
So, enjoy a brilliant day on the river with the Hop On Hop Off Thames River Cruise. See a multitude of attractions, discover their history and marvel at the grandeur of the capital.
Includes
Unlimited Hop-On Hop-Off cruise tickets
Audio guide (via the official app)
Additional
Timings

The cruise service runs daily between 10:00 AM and 7:30 PM. Boats depart approximately every forty minutes.

How to board

The sightseeing service runs a full circle between Westminster Pier, London Eye Pier, Tower Pier (East and West) and Greenwich Pier, returning to Westminster.

Getting your tickets

You will receive email confirmation shortly after booking. Please print out your tickets and proceed to any of the piers and show your ticket at the kiosk. You may exchange your printed voucher for the actual ticket any time between 9:00 AM and 5:00 PM. Please note, your ticket is valid for the time frame selected when booking.

Accessibility

All boats are accessible via wheelchair.

Cancellation Policy

Tickets cannot be cancelled, amended or rescheduled.