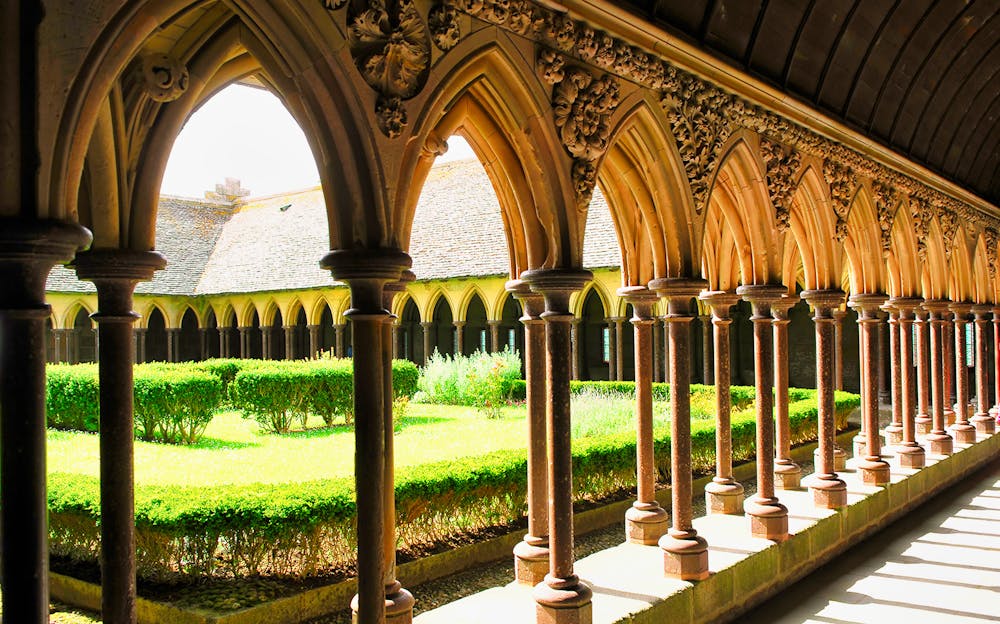 Mont Saint Michel Tour from Paris
Full Day Tour | Includes Lunch
Highlights
Discover Mont Saint Michel on this fantastic day trip from Paris.
Marvel at the medieval architecture of one of France's most famous islands.
Relish amazing French cuisine at a local restaurant.
Take the Mont Saint Michel tour to admire a unique French monument
Mont St. Michel or Le Mont Saint Michel is a mainland cooperative and island in the Normandy region of France. Located about a kilometre off France's north-western coast near Avranches, the monument expands up to an area of 988 acres. While the island comprises 17 acres, the commune is across 971 acres and has a population of only fifty. On the Mont Saint Michel tour, you will visit this mesmerising wonderland and familiarise yourself with its charm. Find out why it attracts over three million visitors annually and is the second most visited attractions in France.
Visit a UNESCO World Heritage Site
In 1979, UNESCO included Mont St. Michel and its bay to its list of World Heritage Sites. Its rich historical, cultural and architectural importance along with its natural and human-made beauty gave it the title. Over sixty of the cooperative's structures have been declared as Monument Historique by the French Government. Since the 8th Century AD, the monument has been an important part of France's glorious history, and it was also an impressive stronghold from ancient times.
St. Michel played an integral role in keeping invaders away during the medieval period. The city was a prison under King Louis XI and stood strong against the English during the Hundred Years War. Visitors with a fascination for European history love exploring the landmark which is loaded with impressive and captivating traces of the medieval culture. Seeing this attraction is a treat for sore eyes. It is named after the large monastery that sits on the island, which derived its name from the archangel, Michael. Since the early medieval era and the beginning of the 8th century, the former Mont-Tombe holds the first oratory in the name of the archangel. During your Mont Saint Michel tour, you will come across the 156-metre tall gilded statue which depicts him slaying the dragon.
A day at Mont Saint Michel in France along with a delicious meal
Start a full-day excursion to the country's most remarkable island-city with a drive via the pleasing green scenery of the countryside. An air-conditioned bus will take you to the destination by mid-day. Upon your arrival, head to a local restaurant to savour a delectable lunch while taking in the gorgeous view of Mont Saint Michel.
Post lunch, you will begin a walking tour of the city. Marvel at the allure of the archaic Benedictine Abbey situated at the island's top. The structure takes up to three floors. Follow your tour guide and access the monastery's cloister and refectory to discover intriguing facts about the attraction. Stroll through the pleasant streets and ramparts as you near the end of your tour. Soak in the magnificent vistas of the crashing sea waves and the relaxing horizon before entering a few local shops for souvenirs. By 9:15 PM, you will be back in Paris, wrapping up your Mont Saint Michel tour and cherishing a day well spent.
Includes
Luxury air-conditioned bus
Lunch (includes drinks)
Abbey admission
Tour guide
Additional
Timings

The tour runs on every day. It  starts at 7:15 AM and last for approximately 14 hours.

How to get there

By Metro: Alight at Pyramides Station. The meeting point is a four-minute walk away.

Getting your tickets

You will receive your tickets via email shortly after booking. Please display them on your mobile device along with valid photo ID.  Please note that the tour is valid for the date selected when booking.

Food Information

The Relais Saint Michel Menu
Baked Camembert in phyllo dough with apples and arugula salad
Salmon with rice and two vegetable sides (e.g. mushrooms and broccoli)
Apple tart
1 bottle of cider + 1 bottle of water for 6 pers.
Coffee or tea

Vegetarian Menu
Baked Camembert in phyllo dough with apples and arugula salad or Crudité plate
Tagliatelle with vegetables or Omelet with vegetables
Apple tart
1 bottle of cider + 1 bottle of water for 6 pers.
Coffee or tea

Children's Menu (under 12 years old)
Tagliatelle with ham or Ground beef with french fries or 'Moules Marinières' with french fries
Apple pie or Chocolate mousse or Ice cream vanilla-strawberry
Soft drink

Please note that these are example menus, subject to modification, and that the menu is not available in English.

Additional Information

Climbing the abbey can be difficult for those with reduced mobility. If you are visiting in winter, warm clothing and shoes are recommended. The onsite visit is roughly 4 hours and 30 minutes.

Cancellation Policy

Tickets cannot be cancelled, amended or rescheduled.